I'll preface this by saying I'm sure you guys already know A LOT about what I write about below -- in fact, probably more than I do. My point in writing this is to describe how I've made DSLR filmmaking work for me at a very high quality level.
I've always been a DIY filmmaker -- going all the way back to my years in high school, writing, directing, lighting, editing, sound mixing (I don't act and I don't compose the score, neither falling into my skill set) -- mainly because either 1) there weren't skilled people around to help me or 2) I couldn't afford to pay them. I did a lot of in college as well, but around that time I started transitioning out of doing everything and finding people better than I am to take on some of those roles. I met some great collaborators that way and found some great success with the resulting projects.
During that time, it was easier to be a DIY filmmaker. Shooting mostly on DV, you often lit and composed your image to be exactly what you wanted to be, instead of shooting it flat and waiting for color. You just didn't have the latitude to push the image too much and shooting RAW meant you were shooting film (and spending a lot of money). It was also simpler equipment wise. I owned an XL2 and could shoot great stuff with it right out of the box. In college, I got fancy and started using the P+S Technik Mini35 adapter with cine lenses but other than decreasing your depth of field, you still shot the image close to how you wanted it.
After college, things started changing. HD was becoming a big thing but the formats and codecs were all over the place (not that it's gotten less simple today) and the technology started moving so quickly that it no longer made sense for me to purchase cameras and support equipment. Instead, I looked to renting the latest and greatest. As a result, I also moved further away from DIY and more into just being a director and writer (though I still had to edit).
I loved that period of time because I got to focus on what I really wanted to focus on: working with actors, composing the shots and telling the story. And I got to shoot with a variety of cameras: HVXs, REDs, DSLRs, Canon C300s, Alexas, and more. But mounting projects allowing for that take time, cost money and are pretty sizable productions. Because of that, in order to shoot these things, I needed money. It was difficult because I didn't have the means to just go and do something (a short, spec commercial, YouTube web series, whatever). I was always limited.
I also began to realize that the bigger cameras weren't necessarily better for my style of filmmaking. I like to shoot handheld, and long takes with a lot of movement. It took time to reset, you had to light before you changed your shot, etc. It wasn't conducive to speed and ease which is what I really wanted.
Enter the DSLR.
I was a camera operator (in addition to co-producing and editing) on Anthony E. Zuiker's second digi-novel series Dark Prophecy. What is a digi-novel? It doesn't matter anymore. Point is, we shot a little web series connected to a book. To move quickly, our DP William Eubank (director of this summer's Focus Features release The Signal) suggested we use Canon 5Ds. And we did and I loved them. Despite my issue at the time with the tinny electronic-ness of the image, they were compact, worked amazing in low-light, and still provided an HD picture with incredible shallow depth of field.
Last year, when I was looking to shoot a no-budget feature (Layover) I immediately thought of the Canon 5D mk ii, for a couple reasons: 1) I didn't have the money to rent a camera, so I had to go with what I had access to, 2) I knew several people that owned a Canon 5D and 3) I wasn't going to have the ability to do a ton of lighting and would be shooting largely guerrilla style.
I had a DP on the film but I shot 99% of the movie (mostly because we didn't have an onboard monitor, much less a video village, and it was easier for me to just shoot it myself and see exactly what I was getting). The problem, however, was that I wasn't really paying attention to the settings, color balance, etc. I was but I wasn't being meticulous about it. But I was okay with that, it was part of my approach to the film -- just doing it. And we didn't shoot Cinestyle (a setting that flattens out your image, allowing for better color correction, it essentially creates a LOG-like setting) so what I was shooting was pretty much the image I was going to use. I also shot the majority of the film on the Canon 24-105mm IS 4.0/L lens -- which is a GREAT lens, the image stabilization allowed for me to shoot it handheld without a rig (it eliminated hand shake) but it's a f4, which means you need a pretty good amount of light.
After I left my executive job at Zuiker's to go out on my own as a director, I knew I was going to need my own camera. Rather than drop a huge chunk of change on a Canon 5D mk iii and have nothing left over, I bought the Canon 6D -- which is exactly the same camera, with the same full frame sensor, it just lacks some of the more professional photography features. Fine. It also came with the 24-105mm lens and the Canon 50mm 1.4 which is a great lens as well. With the money left over I was able to buy an onboard monitor, handheld rig with mattebox and follow focus and an eye-cup viewfinder for the LCD screen on the back of the camera (on board monitors with DSLRs are a little janky).
Rather than drop $2000 on a RedRock rig, I found this one from Adorama, costing a fourth of the amount and yet it's still incredibly high quality. I would highly, highly recommend it for DSLR shooters out there. (Want to save even more money? Check out their coupon page here.)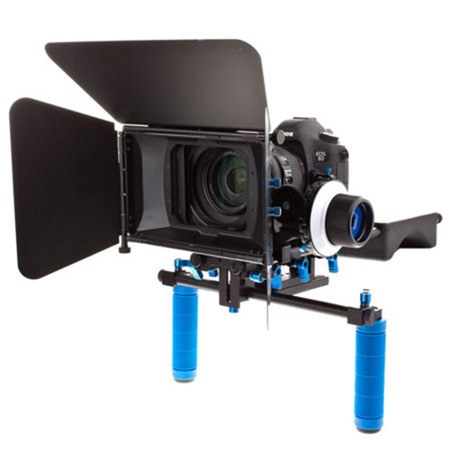 I've more than paid back my investment in the camera with the jobs and projects I've used it on. And I've gotten far more comfortable with the post/color process as well, now choosing to shoot in Cinestyle and color later. One of the things I learned was that you want to over expose your image in Cinestyle by a stop. That gives a good amount of latitude to work with in your color suite, because you can always crunch the image down, but it's really hard to lift it back up out of darkness.
The other thing I did was hack the 6D to use the Magic Lantern software. This software (and warranty voider) gives you a lot more control with a ton of additional features, including shooting RAW. I don't use the RAW option much because on my 6D it can only go up to 720p, not 1080p. But features like Focus Peak, Crop marks for 2.35:1 and slightly bumping the bitrate are ones I use on the daily.
One of the newer things I've gotten into is lenses. While the still photography lenses are great, they're not really made for video and I've notice a sharpness issues sometimes. So, I recently purchased the Rokinon 35mm T1.5 cine lens and the 85mm T1.5 cine lens.
I've already shot two projects with them and the results are incredible. I'll still probably use the 24-105mm due to the IS but these lenses are really great and definitely add a more cinematic look to your image. Are they the best lenses? No. But I'm not in a position to drop $4k on a Zeiss DSLR lens, especially when a number of the reviews suggest that you can't really tell much of a difference. They're good glass and add quality.
Finally: color. I've never been a colorist. Once it moved out of the DV world and we were in to LOG and Final Cut Color and RED footage and DaVinci I was threw up my hands. I wanted to find someone else to handle that and for a while I did. But it got to the point where I couldn't ignore it anymore, especially on some of these projects that didn't have the budget for a colorist. Plus, I was seeing some cool coloring being done and I wanted to figure out how to do it. I started collecting images off of Pinterest and playing in Photoshop and trying to figure out how I could apply that look to video.
That led me to BlackMagic's DaVinci Lite suite, a free color correction program from the makers of the BlackMagic cinema cameras. I worked with a gaffer/colorist on a couple commercials I shot and when I went over to his place to look at the color I started talking to him about it -- asking him how to use it, what LUTs are and how to use them.
Now, I am by no means a master -- but I've found myself starting to get it, mostly through YouTube videos and blogs. Last week, I directed and shot some commercials spots and decided to use my 6D, shoot in Cinestyle and then color in DaVinci. I had at my disposal natural light, a china ball and some LED panels.
I was pretty happy with one of the spots, coloring wise, and even finally learned how to use power windows. The four images below are from the shoot. The top one is the original image as shot and the bottom one is the final color.
While DSLR doesn't tend to provide the same level of resolution as the RED or Alexa or even the C300, I'm okay with that. I look at it like this: 1080p DSLR is like 16mm (albeit, with a full 35mm sensor) and the RED and Alexa are like 35mm. It can be an aesthetic choice, one that I embrace. I think too much is made over the whole resolution game. And while, yes, both the 6k RED and Alexa images look amazing, there's a lot that comes with getting those. For a run and gun filmmaker like myself, DSLR (16mm) is a little more manageable while still delivering stunning results.
This is all to say that I'm really enjoying the process of learning and figuring out how to do things on my own. It means I get to create and execute my own projects when I want to.
As an extension of Layover, I'm planning what I call the LAX Trilogy. A series of films that begin with a character arriving at LAX -- all very different stories with different characters. Layover was an experiment executed largely on a whim (that's an understatement) but it was do first, think later. I'm really excited to bring the lessons and skill sets I've learned over the past year to the next two films in the trilogy, shooting this fall, winter and spring.